As the weather cools off and the air becomes chilly and crisp, most of us are not quite ready to give up our time outdoors. Outdoor patio heaters are growing in popularity as their manufacturing becomes higher in demand and the units are more accessible to the average person who would just like a cozy space to sit in their yard.
Today there are patio heaters for many types of use, from simple tabletop patio heaters to large commercial heaters that restaurants use. According to Tactical Business, the market for outdoor patio heaters is expected to have a compound annual growth rate of 7.34% through the year 2022.
We've looked at the different types of patio heaters, as well as fuel options and safety concerns to help you find the best patio heater for your home, restaurant or business. We have carefully considered other patio heater reviews and have compiled a list of our top picks.
Free standing patio heaters are used to cover a large area of patio or deck. They usually have a slim design, that makes them easy to fit without taking up too much room for your guests' tables and chairs. A general rule of thumb for free standing models is to keep them at least 30 inches away from any flammable materials. If your deck has a pergola roof or awning, you will especially need to consider this distance.
Free standing patio heaters comes in different sizes to achieve warmth for your desired space. Based on your preferences, free standing units can be fuelled by propane, electricity, or natural gas. Restaurants often choose free standing patio heaters because they are efficient at covering larger spaces (100-150 square feet of space) by running at 40,000 BTUs (which don't worry, we'll get to shortly. A BTU stands for British Thermal Unit.)
Table top patio heaters are a great option for smaller spaces (such as balconies and porches) and infrequent use. They are easily portable and can be safely stored in your garage or shed in the off-season. Table top patio heaters are either run by electricity or by a small (usually 1lb) propane tank that fits seamlessly into the unit.
Although typically pricier than free standing or table top patio heaters, wall or ceiling mounted patio heaters are a popular choice because they don't take up any floor space at all. Mounted patio heaters are a good choice for smaller patios and for families with young children who might otherwise be curious to touch the unit. Due to their high positions, nearly all wall or ceiling mounted patio heaters are run by electricity. This type of heater is also popular in the garage as we have featured many models in our workshop heaters article.
Hanging Or Umbrella Heaters
Hanging patio heaters are small units that resemble a hanging lamp in most cases. They are run by electricity, and because of their small nature they are sometimes also approved for indoor use, which could be super helpful for working on projects in your garage or shed during the cooler months.
An umbrella heater is literally what you think it might be – an electric heater that attaches to the underside of a patio umbrella to keep the area around the table warm. The umbrella heater is not only a great source of heat but also an excellent source of light, which means that you can use your outdoor space well into the night.
Made mostly for their aesthetic designs, fire pit heaters resemble typical fire pits or fire bowls without all the additional work of actually building a fire. And unlike true fire pits, fire pit heaters don't require and dousing with water or cleaning-up of ashes. Most are controlled with a simple switch and run by a propane tank concealed within the base.
Considerations Before Buying A Patio Heater
When planning your purchase of an outdoor patio heater, the most important element will be to measure the size and the shape of the space that you would like heated. For example, a small table top heater might be perfect for an apartment balcony at a two-person table but might not offer enough heat to be used on a deck with an eight-person table.
Most models of patio heaters will tell you how many square feet they typically cover, so this is a useful number to have during your shopping. You will also want to consider whether your patio is covered or not. A covered patio will hold heat in better than one that is completely open to the elements.
Heat Output (Btus)
BTU stands for British Thermal Unit. It's basically a fancy way of saying how much heat the patio heater can produce, so you can assume that the larger the BTU unit, the greater the power the patio heater has. Most free-standing patio heaters operate at 40,000 BTUs, which put simply means that they supply heat to roughly a 20-foot diameter. Looking at this number, it's obvious that 40,000 BTUs would be ideal for a large deck and would be way too powerful for a small space like a balcony.
It is important to check the product safety features of any heater before purchasing one for your home. Here are the top four safety features that you should look for in an outdoor patio heater.
Safety Tilt Switch:


Most outdoor patio heaters have a built-in safety tilt switch. This means if the unit is tilted for any reason past a certain degree, that the unit will automatically turn off.

Automatic Turn-Off:


The same automatic turn-off feature that you might expect from a coffee maker or small hair appliance are also featured in most outdoor patio heaters. The auto turn-off will make sure that the unit doesn't get too hot. Some appliances will also turn off after a certain amount of time.

Cool-Touch Feature:


If you're planning to use your outdoor patio heater around children or pets, look for heaters with the cool-touch glass feature. You should still encourage children not to touch, but this safety feature will help prevent accidents and burns.

Safety Approvals:


Although outdoor patio heaters are not very regulated in the United States, you can still find units that have been UL or CSA approved. These are companies that will thoroughly evaluate products to make sure that all safety requirements have been thought of and met. Choosing a product that has been safety approved it basically taking the extra step to protect everyone who will enjoy your outdoor patio heater.
Nearly all outdoor patio heaters will have the option to adjust the temperature in the old-fashioned sense, from low to high. Much like the burner on your stovetop range, the output can easily be changed from low, medium, or high in a quick manner. However, if you're pickier about the temperature around you (perhaps you're a restaurant owner who wants to make sure his guests are perfectly comfortable) you might want to consider finding a unit with a completely programmable thermostat.
Heating Costs
Although electric patio heaters do not put out heat as quickly as gas heaters, electric patio heaters are much more energy and cost efficient over time. When looking at the same size electric and gas heaters being run for ten hours each, the electric heater will cost about 1/6th of that of the propane heater.
This article does a good job explaining why this is the case. If cost is of great concern to you or you plan on using your outdoor patio heater often this is something you will want to consider. This image also provides an estimate as to the expenses surrounding patio heaters.
How portable your outdoor heater is will be more important to some people than others. For the average homeowner, their patio heater will stay in one space for most of its uses. Many models have wheels on one edge of the bottom, making it easy to maneuver from location to location. Smaller table top units will be able to be carried. When storing your patio heater, you will want to make sure that you consult with the owner's manual, as most patio heaters are required to be stored upright to protect the integrity of the product.
If you are a business owner, however, you may not want your outdoor heater to be very portable, as the chances of theft are higher. It is highly recommended to use outdoor cameras as well as special locks to secure your units when this is the case.
Like everything else these days, patio heaters are quickly becoming streamlined to fit seamlessly into our everyday lives. Once made for just the use of heating an outdoor space, outdoor patio heaters come in a variety of different designs that are made to be aesthetically pleasing to the eye. Some patio heaters give off an ambient amount of light, while some are shaped like artistic towers of heat.
There is really a lot to consider when purchasing the best outdoor patio heater for your home. If you're really looking for extra features, there are models of patio heaters that have all the bells and whistles including wireless outdoor speakers and remote-control access.
12 Best Outdoor Patio Heaters Reviewed
View Product
Best Propane Patio Heater
| | |
| --- | --- |
| How long will a gas bottle last? | 6-15 hours (10 average) depending on temperature |
| BTUs | 48,000 BTUs (maximum) |
| Heating Area | 200 square feet |
| Price Range | $$ |
| Warranty | 30 Day Free Returns |
The XtremepowerUS 48,000 BTU Premium Floor Standing Propane Outdoor Patio Heater is the best propane patio heater that comes as a free-standing model. Its sleek design will fit comfortably on an average deck and it heats up to a 15-foot radius. I like that it's a tall model at 8.5 feet, but because of this, you will need to make sure that it's a little farther away from any patio umbrellas.
The base will perfectly conceal a 20 lb. propane tank, which is nice as you do not want guests tripping over gas bottles. I've read from other reviews though that as the propane tank becomes emptier that this model has been known to fall over in the wind, so I might recommend that you either store it indoors when not in use or figure out a way to add weight to the base such as securing to your deck or adding sandbags.
This model is fairly easy to assemble, but I like that Amazon offers the option to add-on "expert assembly" right at your home. Once built, the automatic tilt cut off switch means that in the event of a fall, the unit will no lose heat immediately. These are well-designed patio heaters that offer safety as well as long lasting heat.
It is my favorite choice for regular sized decks because it is wheeled and easy to move, push-button start and represents value for money for homeowners.
2. True Commercial (Propane)

Best Quartz Glass Tube Patio Heater
| | |
| --- | --- |
| How long will a gas bottle last? | 6 – 15 hours (10 average) depending on temperature |
| BTUs | 41,000 BTUs |
| Heating Area | 115 square feet |
| Price Range | $$$ |
| Warranty | No – Protection Plans Available for Purchase |
Anyone who enjoys a traditional fire will be able to appreciate the ambience that this Golden Flame patio heater provides, as it truly does look like the flames are dancing within the quartz tube. This is another great option and does look better than our #1 choice but it comes with an increased price tag.
The push-button ignition makes this patio heater easy to use and its design also gives off a good amount of lighting for evening gatherings. I like that the base has a compartment for adding water or sand for extra weight and that this particular Golden Flame model has a weather cover that can be purchased separately to protect the heater from the elements.
Some golden flame models come with wheels which is great readjusting the heater. The 3 sided pyramid design is made with a single piece of quartz tubing which is stronger than many other brands who use 2 thin pieces. Lastly, the auto tilt safety feature leaves users with the knowledge that if any unsuspecting fall occurs then their heater will cut out immediately.
I find that the quartz glass tube patio heaters are usually more expensive than regular freestanding versions, but if it's style you're after they make an excellent choice.
3. Belleze Commercial
Best Commercial Patio Heater
| | |
| --- | --- |
| How long will a gas bottle last? | ~10 hrs (20 lb tank) |
| BTUs | 34,000 BTUs |
| Heating Area | 175 square feet |
| Price Range | $$$ |
| Warranty | 1 Year Warranty from Company |
Every time that I search for this patio heater by Belleze online, it's out of stock! And for good reason too – this patio heater is a sturdy, solid piece of art and ambiance for any backyard. It doesn't give off quite as much heat as some of the other free-standing heaters on the market (34000 BTUs), but it's design and flame lighting make this model very popular among consumers.
One of my favorite features of this patio heater is that it is only 5.5 feet tall (larger option about 7 ft.), which means that it can safely fit under most covered porches or pergolas. The specifications for this heater say that it gives off heat for about 15 feet, but most users will agree that you will be more comfortable within about half of that.
The weather-resistant glass casing means it can be used in light rain or strong winds without getting damaged. A 20 lb. propane tank will last approximately 10 hours and keep you warm whilst eating, drinking and socializing outside.
This is another step up in quality design and appearance. It is a great tower patio heater but once again, be prepared to pay a higher price.
4. AZ Portable Tabletop Heater
Best Propane Table Top Patio Heater
| | |
| --- | --- |
| How long will a gas bottle last? | 2-3 hours (1 lb tank) |
| BTUs | 11,000 BTUs |
| Heating Area | 20 square feet |
| Price Range | $ |
| Warranty | Limited 1 Year WarranThe AZ Patio Heater Portable Gunmetal Tabletop Heater is the best outdoor patio heater option for small, intimate gatherings of 2 to 6 people sharing a table on a slightly chilly night. |
Its slim design stands just under 40" tall, which is just tall enough to not block anyone's vision across the table and keep the heat going in all directions (which for this heater, is about a 5-foot diameter). I love that this patio heater uses a very small 1 lb. propane tank and functions for about 2-3 hours at a time. You will need to purchase this gas tank separately as almost all patio heaters do not come with one.
When you're done, you can simply store it in your garage or shed without worrying if it will be damaged by the rain or other elements. Also, I appreciate that the AZ brand is a well-known company that stands behind their limited warranties on all their products.
Overall this choice isn't for everyone as it will only warm tabletops that are small and intimate. It is, however, a great option for anyone with an open-air balcony who is legally able to use a propane heater.
5. Ener-G+

Best Electric Table Top Patio Heater
| | |
| --- | --- |
| How long will a gas bottle last? | N/A - Electric |
| BTUs | 5,100 BTUs |
| Heating Area | 20 square feet |
| Price Range | $$$ |
| Warranty | No, Protection Plans Available for Purchase |
Products with duel purposes are among my favorite, and this Ener-G+ Freestanding Outdoor Electric Patio Heater with LED Light is right at the top of my list. Ideal for a balcony or small outdoor space, this heater is just perfect for 2-4 people.
And the dual purpose I mentioned? It's also a table! The glass top has a cool-touch feature that will make sure your beverages and snacks don't get too toasty while the heater is working to keep your legs toasty below.
I like that it can plug right in and keep you toasty for however long you want, without having to worry about running out of fuel. The power cord is a decent length at 6.5 feet, so it's nice that you also don't have to be right on top of a power outlet. I only wish that the table-top itself were a bit larger as it is only suitable for drinks or a bowl of nuts.
Still a great heater product in my opinion as it is perfect for my needs. Sit out in the cold air, plug in the heater and enjoy a cold beer while resting your glass on the table top.
6. AZ Patio (Radiat)
Best Wall Mounted Patio Heater for Home Use
| | |
| --- | --- |
| How long will a gas bottle last? | N/A - Electric |
| BTUs | 5,100 BTUs |
| Heating Area | 15 Square Feet |
| Price Range | $$ |
| Warranty | Limited 1 Year Warranty |
Wall mounted patio heaters are a great option for people who don't have a lot of floor space to spare on their deck's and patios, and I love this AZ patio heater for its ability to blend in without sticking out too much. Unlike most wall-mounted patio heaters, this one does not give off any light at all so you won't even notice its even there. Except for the heat it provides!
I appreciate this because my deck already has lighting that I find to be ambient and intimate for small gatherings. The heater also comes with a remote control, which is super handy for changing the temperature without asking anyone to move or interrupt the conversation. The only con about this heater is that it only has a low-temperature setting and a high-temperature setting, so you can't be too picky about getting it just right or you will drive yourself crazy.
One thing that surprised me about this AZ heater is that it is not light! The heater itself is only 20 lbs. which might not seem like very much, but the actual mounting overhead is definitely a two-person job. Once complete, the electrically powered heat source is set for all year round. This is a superb option for anyone who is considering a wall or ceiling (it comes with those brackets too) mounted heater.
Best Wall Mounted Patio Heater for Commercial Use
| | |
| --- | --- |
| How long will a gas bottle last? | N/A - Electric |
| BTUs | N/A |
| Heating Area | 100 square feet |
| Price Range | $$$$ |
| Warranty | 1 Year Warranty from the Company |
These Infratech patio heaters are the Mercedes Benz of heaters. They have a super stylish stainless steel finish, and they can be mounted in several ways. They can be wall mounted, hung, or completely installed into the wall or ceiling (by a professional, of course) to create a seamless design with your outdoor patio. I love that they are also safe to use indoors!
This is a great choice for homeowners with a three-season room or for business owners with an open-air theme going on. The 4000W power is huge in comparison to most out heating units and this one will keep you and your guests toasty and warm.
Not only are these Infratech patio heaters eco-friendly, but they are also made right here in the United States, whereas most patio heaters on the market are coming directly from China. The only downside to this heater is that it is more expensive than many of the other brands on the market and you will likely need to have a professional electrician help you install it. But if you don't mind dishing out the few extra dollars, it will be worth it!
Best Natural Gas Patio Heater
| | |
| --- | --- |
| How long will a gas bottle last? | Natural Gas – Home Hook-up |
| BTUs | 26,000 BTUs |
| Heating Area | 120 square feet |
| Price Range | $$$$$ |
| Warranty | Limited 1 Year Warranty from the Company |
The best option for permanently placed outdoor patio heaters is the Bromic Heating Tungsten 300 Smart-Heat. I love that it's hooked up to your home's natural gas line and that you won't ever have to worry about replacing the fuel source. Additionally, you will still have that hot, instant gas that keeps you warm for hours on a chilly night.
I feel like the designers have really thought of everything when it comes to this compact design. If your patio heater will be in the open air (as opposed to under a covered patio), there is a special deflector shield that can be placed on the unit to direct the heat right to where you want it to be. It also is one of the only models of mounted patio heaters that comes on an adjustable bracket so that you can fine-tune as necessary.
My local cafe uses about 10 of these heaters and they are fantastic. I've noticed how easy they are to adjust, project heat in any conditions and the sleek design really turns heads. Of course, all of this comes at a hefty cost but for commercial and even residential, these are the absolute top of the line.
Best Propane Gas Fire Pit Table
| | |
| --- | --- |
| How long will a gas bottle last? | 7 – 15 hours |
| BTUs | 35,000 BTUs |
| Heating Area | Small |
| Price Range | $$$$ |
| Warranty | Limited 1 Year Warranty |
I'm from the south, and around here we call these fire pit tables s'mores tables. Because they are obviously the perfect size and height to make s'mores! It's so relaxing to sit around this table and watch the little flames dance. It really offers all the benefits of a traditional campfire without any of the work.
I love that the propane tank is completely sealed, and the wicker is made of super weather resistant material. For this fire pit table, I highly recommend also purchasing the accessory package. The accessory package comes with a glass windscreen that not only adds a beautiful design but will make sure that the flames don't blow into your drinks or snacks.
It also includes a weather cover and an additional lid that can be used to cover the fire rocks when not in use so that you have an average coffee style table. These fire pit tables run on a 20 lb. propane tank, operate at 35000 BTU (which is a lot of heat) and come with easy, push-button ignition. In addition, the 8 mm black tempered glass tabletop and 15.5 lb arctic ice decorative glass rock set keep this heater looking amazing while offering safety for those near it.
This is one of my favorite winter products and is a real favorite in my home. It's more than a heater and is a year-round backyard setting so families, guest or neighbors can get together.
10. AmazonBasics Natural Stone Fire Pit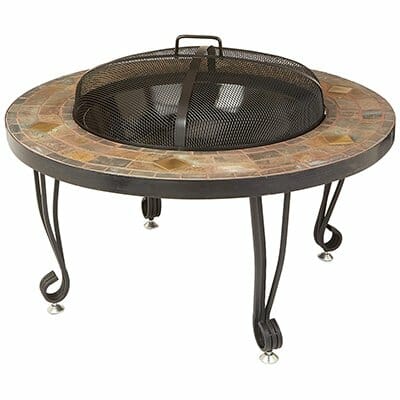 Best Wood Burning Outdoor Fire Pit
| | |
| --- | --- |
| How long will a gas bottle last? | N/A - Wood Burning |
| BTUs | Not Applicable |
| Heating Area | Small |
| Price Range | $$ |
| Warranty | Limited 1 Year Warranty |
I love this firepit by Amazon Basics for our backyard. It's a simple design, but the natural stone makes it look much more high-end than typical fire bowls even though the price is comparable. The stabilizing feet on this firepit give it a sturdy hold, so unlike a lot of outdoor heaters, you can use this one on the grass, even if the area is not completely level.
The firepit is heavier than I would have expected at just over sixty pounds, but it's relatively easy for two people to carry from one location to the next. Our Home Owner's Association requires that all firepits are at least 25-feet from the house, and after using it we can see that because it's a real fire there will be embers and floaters. For this reason, I would make sure you never use this firepit on a wooden deck and always keep a hose or bucket of water nearby.
It does come with the wide handle fire screen to help cover any potential flying embers. The steel, natural stone, and copper mean this fire pit will last a long time while maintaining it's stylish design. Overall, this is an excellent value for money wood burning firepit.
Best Umbrella Fan Patio Heater
| | |
| --- | --- |
| How long will a gas bottle last? | Electric |
| BTUs | 5,100 BTUs |
| Heating Area | Small |
| Price Range | $$ |
| Warranty | Limited 1 Year Warranty |
The idea of a patio umbrella heater initially made me nervous because it just didn't seem very safe or like a good idea to have a heater so close to a canvas umbrella. But this Dimplex model has really impressed me and exceeded my expectations.
I think that the most important thing to consider when you would like an umbrella heater is whether your umbrella itself is an optimal candidate. You must ensure that the base is heavy enough to hold an additional 11.5 lbs. (the weight of the heater).
Once installed, this Dimplex patio heater is a dream! It has three "blades" that resemble a fan, but it does not move when in operation. The heater covers a standard size table for six people, and each of the blades can be used by themselves or together, so if one end of the table is feeling too warm you can just turn it off.
Another feature that I wasn't expecting with this patio heater is that it folds! You can still close your patio umbrella just as you regularly would, which means that you don't have to uninstall it after each use.
I am very pleased with this patio heater as it is a great option for anyone who may already have a solid fan installed or would like one for summer with the option for heat in the wintertime.
Best Portable Multipurpose Patio Heater
| | |
| --- | --- |
| How long will a gas bottle last? | 4-6 hours |
| BTUs | 2,890 BTUs |
| Heating Area | Small – Personal Use |
| Price Range | $ |
| Warranty | 1 Year Limited Warranty |
This small propane heater can best be described as a portable, personal heater. Designed for hunting and camping, I was amazed to read the reviews of all the different uses this "little guy" has been applied to: fishing boats, ice fishing shelters, hunting blinds, golf carts, large tents, tailgating and more!
It doesn't put off a ton of heat, but in a small ventilated shelter will help warm one to two people in a small area like described above. The only thing to be considered is that it does run on propane, so it will need to sit on a solid surface where it can be tended to. You might also want to consider bringing fuel refills as a 1 lb. tanks only last 4-6 hours.
This is one of the cheapest patio heating options on the market so if you need a multi-purpose heater then this is for you.
What Fuels Outdoor Heaters?
Propane is the most common form of fuel for outdoor heaters, and most gas-grill owners are familiar with how it is stored in a liquid form inside a tank. According to the official Propane Website, propane gas is clean, American, abundant and affordable, which makes it a good fuel option for outdoor patio heaters.
Many free standing and table top patio heaters will use a propane tank of up to 20 lbs. This includes heaters with quartz glass tubing, a special kind of fused glass that is much less temperature resistant than normal glass. Depending on what temperature setting you're using your patio heater at, a 20 lb propane tank can be expected to last anywhere from 7 to 15 hours (depending on your model). Table top patio heaters have much smaller propane tanks (usually around 1 lb) and will need to be changed out often.
Electric patio heaters are not as common as propane heaters and are often limited to the smaller varieties (wall or ceiling mounted, hanging or umbrella heaters). That being said, electric patio heaters are considered to be safer than propane versions, and many models are also labeled for indoor use as well. When considering an electric patio heater, you will have to make sure that there is an outdoor outlet available for your use and that the model is designed to cover your intended space. Unlike propane patio heaters, electric heaters do not offer "instant heat" and take a little while to warm up.
Natural gas patio heaters are less common than propane and electric gas heaters but can be a great option if your home has a hook-up to a natural gas pipeline for your furnace and/or appliances. Unlike propane gas that is stored in a tank as liquid, natural gas always remains in a gaseous form and travels to your home through a pipeline that is maintained by the city or jurisdiction that you live in.
This allows users to have a steady stream of gas without ever having to replace the source. (For this reason, many homes in the US have a gas-powered fireplace that can be turned on with a simple flick of the switch.) If you're considering a natural gas-powered patio heater, keep in mind that you will need to have it setup by a professional so that it meets area safety codes.
For the true outdoorsman that doesn't mind spending the extra time getting a good fire going, a wood burner patio heater is a great option. Most wood burner models look much like an outdoor fireplace or wood burning stove with a small chimney, and there are usually two different ways that they make heat. The first way is an old, boy-scout style fire with logs. The second way is a natural fuel source called wood pellets, which are small pieces of wood that can be added during your time of use. Some wood burner options also have a gas option to help at the beginning when getting your fire started.
Sizes, BTU's & Heating Areas Explained
When purchasing an outdoor patio heater, it's important to understand the relationship between the size of the heater, the BTUs it puts out, and the heating area you're intending to heat. First, let's look at each of these elements individually.
Size of Patio Heater:

It might be easy to assume that the larger the patio heater, the more heat it will put off, but that is not always the case. As we reviewed above, there are some smaller, wall mounted heaters that can put off just as much heat as an 8-foot freestanding heater.

BTUs:

As discussed earlier, BTUs are British Thermal Units, or how much heat a patio heater can put out. In this case it is right to assume that the lower the BTUs, the smaller the space the patio heater will warm up.

Heating Area:

It's important to measure and consider the area that you're looking to heat, and how you intend on doing it. For example, a large free-standing heater will supply heat in a 20-foot diameter (or, let's do some math here, a 10-foot radius in each direction). This might be ideal for the center of a larger area where all directions need to be heated. If you put a free-standing heater in the corner of a deck, on the other hand, you might end up heating an area where there aren't even people. In this case it might be more useful to look for a heater that targets the direction you're looking to heat.
Understanding the importance of each of these factors will help you choose the right outdoor patio heater for your home or business. This table can help you decide how many BTUs are ideal for your outdoor space, and most models can tell you exactly how much area they are recommended for:
| BTUs | Total Area in Square Feet |
| --- | --- |
| 5,000 | 25 square feet |
| 10,000 | 50 square feet |
| 15,000 | 75 square feet |
| 20,000 | 100 square feet |
| 25,000 | 125 square feet |
| 30,000 | 150 square feet |
| 40,000 | 175 square feet |
| 50,000 | 200 square feet |
Patio Heater Safety Guide
Unfortunately, there is no one-size fits all when it comes to outdoor patio heater safety. Although patio heaters are growing immensely in popularity, their use is still mostly unregulated in the United States. We've developed a checklist of safety precautions that should be made as you purchase and install your outdoor patio heater.
Check with local ordinances and your HOA (home owners association) for any requirements or restrictions regarding outdoor patio heaters.
Assure that the patio heater is the appropriate size for the space you will be heating.
Check for safety features: automatic turn-off and tilt switch.
Read the owner's manual to make sure that you are met all clearance requirements from doors, walls, fences, ceilings or awnings.
Make sure that the surface you're applying a patio heater to is flat, sturdy and level.
If installing a permanent electric or natural gas heater, hire a professional to do the job.
Never plug electric heaters into an extension cord and ensure exterior sockets have covers to prevent rain from entering the socket.
Make sure the unit is completely turned off when not in use.
Don't store dry or flammable materials anywhere near the unit.
Always consult the owner's manual for storage requirements.
Frequently Asked Questions
Can you use a patio heater under a covered patio or roof?
Yes, many models are suitable for using under a covered patio, and some are even okay to use indoors. You will always want to check your user's manual for clearance requirements regarding ceilings and other structures.
Are patio heaters safe on wooden decks?
Most patio heaters can be safely used on wooden decks. Please check the user manual for clearance distances.
Are patio heaters safe to use on grass?
It is not recommended that you use a patio heater on any surface other than a hard, level surface. If the heater is not completely level it will set off the tilt switch and the product will not function properly.
Are patio heaters safe indoors?
Very few patio heaters are also approved to be used indoors. For the indoors, it is best to stick to indoor space heaters.
How do you light a propane patio heater manually?
Consult your user's manual on how to reset the pilot light, and then you will be able to light your heater again.
Can I use a propane patio heater in my garage?
No, propane heaters are best for where they are open to the outside air. For heating your garage, you can look for a small space heater that will plug into a standard outlet.
Should I get a heater cover as well?
If you plan on leaving your patio heater outdoors, a cover is ideal for protecting the longevity of the product. Most heaters have covers specific to their brand's shape and size. For a more standard option, check Amazon for an item like this.
Where is a good place to buy cheap patio heaters?
Amazon is a great place to find patio heaters for a good price. Many people recommend going to your local home improvement store to look at the different options in person, and then purchasing on Amazon if the price is right.
For an average outdoor space, we recommend the XtremepowerUS 48,000 BTU Premium Floor Standing Propane Outdoor Patio Heater. With its easy maneuverability and fast setup, it's the perfect option for heating a space with a 20-foot diameter if you need heat today for an event or gathering.
Purchasing an outdoor patio heater can be an overwhelming experience if you're not aware of the different varieties available and each of their intended uses. With a little research, we hope we have helped you along your way so you can enjoy a few of our favorite products on the market.
Source: https://airconditionerlab.com/best-patio-heaters-reviewed